Theme: Partnership that works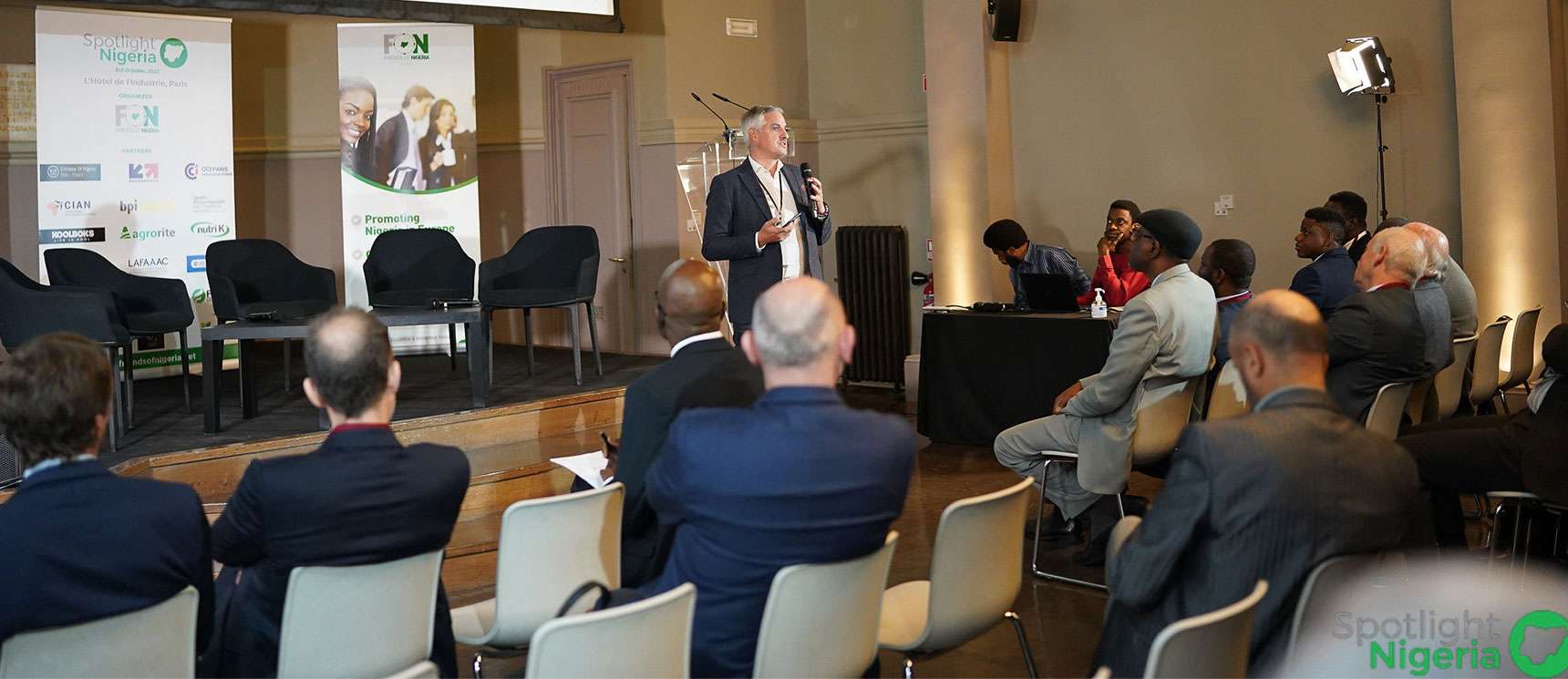 Investing in Nigeria requires more than just rhetorics. A thorough understanding of sector specific opportunities, good awareness of the local environment, and having the right local partners are important factors that give a formidable leverage to maximize the opportunities and mitigate the risks.
The Spotlight Nigeria Business and Investment Forum is an annual event for French (and European) Companies, Business Leaders and Investors to access business & investment opportunities and stakeholders from Nigeria, Africa's largest economy.
The event offers a formidable platform for partnerships and collaboration between companies from Europe and Nigeria for mutual benefits therefore contributing towards a stronger bilateral socio-economic relations.
On its 6th edition this year, the summit will place a special emphasis on Nigeria's agricultural value chain, the banking & financial sector, and the country's burgeoning tech and digital industry.
Agriculture remains the largest sector in Nigeria contributing an average of 24% to the nation's GDP. It is also the country's largest employer, with more than 36% of Nigeria's labor force employed in the sector.
Globally, Nigeria is the largest rice producer in West Africa, the 3rd largest millet-producing country in the world after India and China, the world's largest producer of cassava and yam, and among the world's top producers of sweet potatoes and the world's 4th largest producer of groundnut and cocoa
The tech sector has become one of the fastest-growing sectors in Africa with Nigeria consistently leading that growth since 2015. In Q2 2023, startups operating in Nigeria raised US$ 149.3 million. The total funds raised by Nigerian startups in this quarter alone was more than the combined amount raised by startups from both Nigeria and Kenya in the previous quarter. Startups in fintech, energy, agriculture, logistics, education and health continue to attract VC fundings, targeting underdeveloped and underserved businesses to drive economic growth.
Financial services and access to foreign exchange remain a major concern for foreign investors in Nigeria. Although the current administration has set Nigeria on a long-term path to economic progression with its new financial policies, the short-term effect has had adverse effects on multinationals, eroding already earned income and trading capital that had established their previous earnings based on the official naira rate at the time.
How can companies keep a view on the long-term to wade through the challenges of a devalued naira?
The event will be attended by business leaders and investors from Nigeria, France, and the European business community. The pragmatic conference and plenary sessions, strategic B2B meetings, and result oriented networking sessions would provide participating companies with the relevant momentum to access competitive market insights, leverage business opportunities, initiate partnerships and sign business deals.
The various activities and sessions will address the following questions (and more);
Interact with them during the event.
Registration and Coffee (8am - 9am)
9:00 am - 12:30 pm
Welcome remarks and plenary sessions


Opening remarks & 6 years of Spotlight Nigeria – Friends of Nigeria (FON)
Goodwill Message – Mr. Tunde Mustapha (Chargé d'affaires, Embassy of Nigeria, Paris)
Keynote Address – Mr Stéphane Tabarié (Head of Unit Sub-Saharan Africa, Monetary Cooperation and French Development Agency)
Special Address – Honorable Abike Dabiri-Erewa ( Chair, Nigerians in Diaspora Commission)
Friends of Nigeria snapshot
➔ Special Presentation and special keynote – Bpifrance (Arnaud FLORIS)
Opening Plenary – Business outlook France-Nigeria Nigeria/France
 Etienne GIROS ( President – CIAN)
Yves BATTESTI (Senior Advisor – West & Central Africa, Bpifrance)
Valor IDUH – (Senior Trade Advisor, Business France, Nigeria)
Mr Damien de la Rocque (Deputy Head of Unit Sub-Saharan Africa, Monetary Cooperation and French Development Agency)
Moderator: Juliana Olayinka (Journalist and Broadcaster)
➔ Stand alone session: Navigating foreign exchange bottlenecks (Ebury)

Topic: Digital Innovation and Financial Services
Oluwajoba Oloba (Co-Founder, The Nest Hub)

Olanrewaju Ogundipe (CEO, Imperial Edtech)

Dr. Steve Ogidan mni (CEO, Successory)

Moderator: Nicholas Norbrook, Editor-in-Chief, The Africa Report
Bridging the consumer-demand gap (Agriculture, Distribution)
Adebowale Adeyeye (CEO, Creativo El Matador)

Toyosi Ayodele (CEO, Agrorite)
Networking Lunch and B2B (12:30pm - 3pm)